Ugggggh.
The head. It poundeth.
The nose. It sniffles.
The throat. It rasps.
The ears. They muffle.
The chest. It hacks.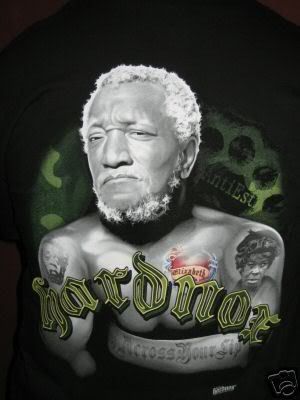 My cold is still here, getting the best of me.
Thank goodness Will is off of school today, simply because I can stay in my pjs -- which are a pair of black lounge pants and this groovy t-shirt I got in Key West.
That's the back of it there over on the right. Yes, that's Aunt Esther. And Grady. And a tatoo that says "Elizabeth." Awesome doesn't even begin to describe it...
On the docket for today: a bunch of movies on the DVR -- "Fear and Loathing in Las Vegas"; "Victor/Victoria"; "She's Having a Baby." And the big ass Hollywood/March issue of
Vanity Fair
. Plus a nap.
My only regret is that it's shaping up to be a beautiful day here -- high in the upper '70s. Maybe if the tide has been stemmed a bit this afternoon, Master Will and I might take a stroll down to the park for some R&R.
Although the chances are good that I'll go in my pjs. It's shaping up to be that kinda day.
~~~~~~~~~
Addendum, 11:15 am: So much for watching my DVR movies -- Playhouse Disney is ruling the roost today. Better to amuse myself elsewhere than have to deal with a crabby Will. The compromises of motherhood...