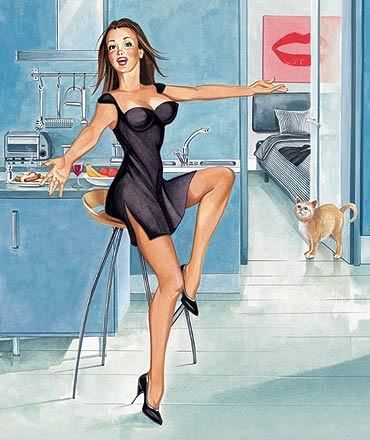 Too often in cooking people fail to make the distinction between time consuming and difficult. There is a difference.
~ Nigella Lawson
Call it potluck. Call it covered dish. Call it a BYOD (Bring Your Own Dish.) We've all been involved with or invited to an event where everyone is asked to bring a little something-something for others to nosh on.
My go-to dish on these occasions -- Sun Dried Tomato Pesto Torta. Been making it for nearly a decade, thanks to seeing it in Bon Appetit when on a hunt for something to take to a Christmas party.
Oh Em Gee, is it good. And others agree with this, she says modestly. It really is yummy. Don't think about the fat content, though, while you're enjoying it. It kills the garlic buzz.
My galpal in NC loves this so much that I don't even think about going on our annual three-family week-long vacation to Captiva without making this. She might disown me if I didn't. She's even eaten this for breakfast, I do believe.
Periodically, someone will ask me for the recipe. Which I'm more than happy to share -- I'm not one to bogart stuff like that.
However, once the askee has the recipe in her hot little hands (not being sexist -- it's always women that have this reaction) and has a chance to look it over, invariably I get one of the two following responses:
"Wow. This looks complicated."
OR
"Wow. I don't make anything that has this many ingredients."
Please. Just because a recipe has more than five ingredients does not a challenge make. Frankly, the most difficult thing for me in culinary land has just four ingredients: flour, shortening, water and salt. The elusive pie crust. Can't make a decent one to save my life. But that's another tale for another day.
Now, I will admit that I enjoy spending time in the kitchen (cooking, not cleaning... blech) more than the average bear. But I've been making this dish since my culinary skills were in their embryonic stage. It's not that tough. It's basically all about the assembly. Seriously.
And the payoff. So worth it. Guaranteed.
~~~~~~~~~~
Not-That-Hard-I-Promise Sun Dried Tomato Pesto Torta (adapted just a bit from Bon Appetit's orignal recipe)
• 4 cloves garlic
• 1-1/2 cups basil leaves, packed
• 1/2 cup pine nuts
• 2 tablespoons extra virgin olive oil
• 1 teaspoon lemon juice
• 4 cups cream cheese, room temperature
• 1/2 cup Parmesan cheese, freshly grated
• 1-1/3 cups sun-dried tomatoes, oil packed & drained
• 1/3 cup tomato paste
• 3/4 cup butter, room temperature
• non-stick vegetable oil spray
• fresh basil sprigs, garnish
• toasted pine nuts, garnish
• crackers or toasted baguette slices
Finely chop garlic in food processor. Add basil, 1/4 cup pine nuts, oil and lemon juice. Process until well blended. Add 1 cup (8 oz) cream cheese and 1/4 cup Parmesean cheese. Using on/off turns, process until just blended. Transfer pesto to medium bowl.
Coarsely chop sun-dried tomatoes in processor. Add tomato paste and process until mixture is almost smooth. Add 1 cup (8 oz) cup cream cheese and blend well.
Using electric mixer, beat 2 cups cream cheese and butter in large bowl until fluffy. Season with salt and pepper.
Spray 6-cup souffle dish with non-stick spray. Line with plastic wrap, extending plastic over sides. Spread 3/4 cream cheese butter mixture evenly over bottom of prepared dish. Top with half of tomato mixture, then 1/2 cup cream cheese-butter mixture, then half of pesto mixture. Repeat layering with 1/2 cup cream cheese-butter mixture, remaining tomato mixture, 1/2 cup cream cheese-butter mixture and remaining pesto. Top with remaining cream cheese-butter mixture. Cover and chill at least 8 hours.
Invert torta onto serving platter. Peel off plastic. Garnish with basil leaves and toasted pine nuts. Serve with crackers or baguette slices.