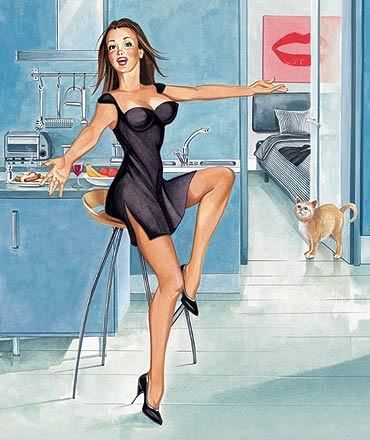 I have a Saturday morning ritual. One that I've adhered to, time and schedule allowing, for years. It goes a little something like this:
Wake up. Read paper. Find Will. Make breakfast. Read paper. Turn the TV off of the Disney Channel to the Food Network. And settle in for a morning-long cooking lesson.
Actually, ever since I've been on The NutriSystem, it's been more like a morning of food porn... but I digress.
More often than not, if something catches my fancy during my cooking school time, it will end up on the dinner table that evening. While I like to think of this as being impulsive, it's really more about me not being organized enough to plan the weekend meals ahead of time. However, I have this now down to a science. My inability to plan has evolved into an actual plan. Go figure.
Tonight's dinner is a rerun, taken from that cute Tyler Florence -- his ultimate beef tacos.
And he's not being presumptuous with the name, either. These things are damn good.
Tacos made not from your standard ground beef, but rather from a lovely pot roast which dances and grinds and grooves slow-cook style in a melenage of tomato and spices and onion and garlic and wine. It's amazing. And while you do have to plan ahead, (unlike what that nutcase Jan did the other night on The Office
-- starting osso buco when your guests hit the door. Good grief. But I loved her red Le Crueset. Who knew she had such good taste in cookware...) the prep time is ridiculously easy and smooth. And while the meat cooks, you can prep the salsa and guac. And mix an agave margarita. Or two. See. Easy-peasy.
So here you go. Enjoy. I have a feeling you will.
2 pounds beef shoulder
Kosher salt and freshly ground black pepper
Extra-virgin olive oil
2 cloves garlic, smashed
1 large onion, sliced
1 (28-ounce) can crushed tomatoes, (recommended: San Marzano)
1 cup red wine
1 tablespoon ancho chile powder
1 tablespoon cayenne pepper
1 tablespoon ground cumin
3 bay leaves
Vegetable oil, for deep frying
6 fresh medium corn tortillas
Kosher salt
3 cups finely shredded white cabbage
Guacamole, recipe follows
1/4 bunch fresh cilantro leaves
For the simple salsa:
1 (28-ounce) can whole tomatoes, drained, reserving the juice (recommended: San Marzano)
1 small red onion, roughly chopped
1 Serrano chile
1 garlic clove, roughly chopped
2 limes, juiced
1/2 cup chopped cilantro leaves
Kosher salt and freshly cracked black pepper
Extra-virgin olive oil, for drizzling
Season all sides of the beef with a fair amount of salt and pepper. In a large Dutch oven, or other heavy pot that has a tight cover, heat 2 tablespoons of olive oil over moderately high heat. Add the garlic and the beef to the pot, browning the meat on all sides, taking the time to get a nice crust on the outside. Add the onion and allow to lightly brown, about 3 to 4 minutes. Add the crushed tomatoes, plus 1 tomato can of water, wine and spices; season with salt and pepper, to taste, and add enough water to cover the meat. Bring to a boil then reduce heat and simmer with a lid for 3 hours until the meat is fork tender. Let meat cool in the liquid. Shred meat and set aside.
Heat a large pot of oil over medium heat. When oil reaches 350 degrees F, fry the corn tortillas 1 at a time. Place the tortilla in the oil and wait about 30 seconds. Then use the handle of a wooden spoon to press down into the center of the tortilla and fold it in the middle. Hold down for a few seconds waiting for the tortilla to form into taco shell and then drain on paper towels. Season with salt.
For the simple salsa:
To make salsa, pulse all the ingredients, except the tomato juice, in a food processor. Add the reserved tomato juice if the salsa is too thick. Drizzle salsa with olive oil, cover with plastic wrap and set aside, allowing the flavors to marry.
To assemble the tacos:
Lay some shredded cabbage as a base. Top with some shredded beef. Serve alongside Guacamole and salsa. Garnish with fresh cilantro leaves.
leaves.
Guacamole:
6 ripe avocados
3 limes, juiced
1 medium yellow onion, chopped
1 garlic clove, smashed then minced
2 serrano chiles, cut into rounds
1 big handful fresh cilantro with stems, about 1/2 cup, finely chopped
Extra-virgin olive oil
Kosher salt and freshly ground black pepper
Halve and pit the avocados. With a tablespoon, scoop out the flesh into a mixing bowl. Mash the avocados using either a fork or potato masher, leaving them still a bit chunky. Add the remaining ingredients, and fold everything together. Drizzle with a little olive oil, adjust seasoning with salt and pepper and give it 1 final mix with a fork.
Lay a piece of plastic wrap tight on the surface of the guacamole so it doesn't brown and refrigerate for at least 1 hour before serving.
Yield: about 4 cups