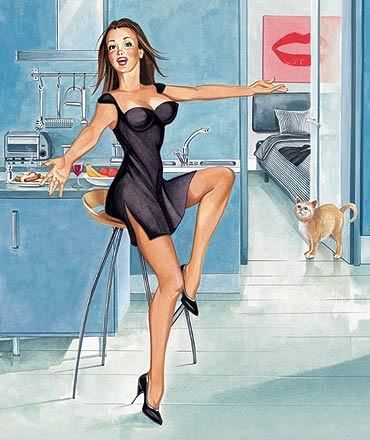 We take our grilling very seriously in my family. And by we, I mean the male members of my clan. And by the male members of my clan, I really mean my daddy.
If I'm the Original Carnivore Girl, then Pops is the Carnivore King. The man never met a piece of beef he didn't like. The scent of charcoal is part of my genetic makeup. I think my first real meal was probably a cheeseburger off Daddy's grill. There was a ritual to our summer evening meals – Daddy would come home from work, put on some shorts and flip flops (but often leaving on his white undershirt), get a beer and go light the grill. If we were out playing in the neighborhood, the smell of the grill lighting up was our signal to come on home. Dinnertime was approaching. And nothing ever tasted so good as one of those burgers with a slice of American cheese sliding down the sides. With some Hi-C Citrus Cooler to wash it down.
As adept as I like to think I am in the kitchen, I am not a griller. But I do like a good burger (rare, with grilled onions if we're going traditional.) For our Fourth of July menu yesterday, I colored outside the lines a little and went with a ground lamb burger. Asked Daddy (and Mama) over – he politely declined. "Don't like to eat anything that used to have fuzz on it." was his reply. The Carnivore King spoke. And I know what he had yesterday: a cheeseburger. Charcoal grilled. With a cold beer.
PS: The lamb burgers really were pretty damn good. As were the sides that we had with – garlic fries and watermelon/feta salad. Check 'em out…
Prosciutto Lamb Burgers
1/2 cup plain dried bread crumbs
1/4 cup chopped fresh flat-leaf Italian parsley
1 large egg, lightly beaten
1/2 cup grated Pecorino Romano
1/4 cup chopped sun-dried tomatoes
3/4 teaspoon salt
3/4 teaspoon freshly ground black pepper
1 pound ground lamb
6 large slices prosciutto, sliced medium-thin (for wrapping the burgers)
1/4 cup olive oil
Fresh basil leaves, for topping each burger
Fresh tomato slices, for topping each burger
Extra-virgin olive oil, for drizzling
Balsamic vinegar, for drizzling
Directions
In a large bowl combine the bread crumbs, parsley, egg, milk, cheese, sun-dried tomatoes, salt, and pepper, Stir to combine. Add the lamb and stir until incorporated. Divide the mixture into 6 (1-inch) thick burgers. Place the slices of prosciutto on a cutting board or piece of parchment paper. Place 1 lamb burger in the center of each slice of prosciutto and wrap the prosciutto around the burger.


Place a large, heavy skillet over medium heat. Add the olive oil and heat for 2 minutes. Place the lamb burgers, prosciutto-covered side down in the pan and cook over medium heat until the prosciutto is golden, about 6 to 8 minutes. Turn the burgers and finish cooking, about 6 to 8 minutes more.
Remove the burgers from the pan and place on a serving platter or individual plates. Top each burger with 2 to 3 basil leaves, 1 to 2 slices of tomato, and a drizzle of extra-virgin olive oil and balsamic vinegar. Serve immediately.
Garlic Fries
4 teaspoons canola oil
3/4 teaspoon salt
3 pounds peeled baking potatoes, cut into 1/4-inch-thick strips
Cooking spray
2 tablespoons butter
8 garlic cloves, minced (about 5 teaspoons)
2 tablespoons finely chopped fresh parsley
2 tablespoons freshly grated Parmesan cheese

Preheat oven to 400°.
Combine first 3 ingredients in a large zip-top plastic bag, tossing to coat. Arrange potatoes in a single layer on a baking sheet coated with cooking spray. Bake at 400° for 50 minutes or until potatoes are tender and golden brown, turning after 20 minutes.
Place butter and garlic in a large nonstick skillet, and cook over low heat 2 minutes, stirring constantly. Add potatoes, parsley, and Parmesan cheese to pan; toss to coat. Serve immediately.
Watermelon/Feta Salad
Per serving:
3/4 - 1 cup of cold watermelon, cubed
1/4 cup of feta cheese, crumbled or cubed
¼ medium red onion, cut in paper-thin slices
1/4 teaspoon of balsamic vinegar
Preparation:
Place the watermelon in a bowl, top with most of the onions, then the feta cheese. Place remaining onions on top. Sprinkle with balsamic vinegar, and serve.

This recipe can be made in individual servings or multiplied and served in a large salad bowl.