Benjamin:

Oh my god.


Mrs. Robinson:

Pardon?


Benjamin:

Oh no, Mrs. Robinson. Oh no.


Mrs. Robinson:

What's wrong?


Benjamin:

Mrs. Robinson, you didn't... I mean, you didn't expect...


Mrs. Robinson:

What?


Benjamin

: I mean, you didn't really think I'd do something like *that*.


Mrs. Robinson:

Like what?


Benjamin:

What do you think?


Mrs. Robinson:

Well, I don't know.


Benjamin:

For god's sake, Mrs. Robinson. Here we are. You got me into your house. You give me a drink. You... put on music. Now you start opening up your personal life to me and tell me your husband won't be home for hours.


Mrs. Robinson:

So?


Benjamin:

Mrs. Robinson, you're trying to seduce me.


Mrs. Robinson:

[laughs throatily]


Benjamin:

Aren't you?

She's back. With a slightly new name. But the same sensibility.
My alter ego: Mrs. CJ Robinson.
She's still sitting on a barstool, with a cigarette holder in one hand (for dramatic effect only) and a Grey Goose & Tonic (with lots of lime) in the other, slightly smeared lipstick adorning her mouth. The shade? Probably
MAC Cyber.
She and her friend, who is nursing a scotch rocks, are once again gossiping and making slightly inappropriate comments about the young men who frequent the watering hole. Periodically she throws a glance towards one of the gentlemen and gives a knowing smile.
If Vivien Leigh had
a Roman Spring,
then I'm definitely having a Florida Spring.
Here's one big reason why... this guy:
American Idol contestant Michael Johns.
My cyberpal
Marissa
and I think of him as our Love Kangaroo.
Hop. Hop. Hippity hop.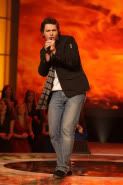 Hide in the hiding place where no one ever goes.
Put it in your pantry with your cupcakes.
It's a little secret just the Robinsons' affair.
Most of all you've got to hide it from the kids.
Sure, I'm being mega-shallow. And rather contradictory to my recent and deeply-held protestations that my biggest erogenous zone is my mind. But sometimes, the hormones want what the hormones want. And who am I to argue.
Honestly, I'm old enough to be his... favorite aunt. But that really doesn't matter when I'm staring at him from the confines of my living room, debating on whether my affection runs deep enough for me to actually pick up the phone and vote for him.
Last night, it did not. But honestly, I don't think my Love Kangaroo is in any danger of leaving my TV screen anytime soon.
Hot damn for that.
The PTA, Mrs. Robinson,
Won't okay the way you do your thing
Ding ding ding.
And you'll get yours, Mrs. Robinson,
Foolin' with that young stuff like you do
Boo hoo hoo, woo woo woo.
(an alternate verse from Frank Sinatra's cover of Mrs. Robinson, found on his 1969 album My Way).
By the way, let me also introduce you to one of the contestants for the upcoming season of Dancing with the Stars:
Christian De La Fuente.
It's going to be a good spring for Mrs. CJ Robinson. Oh yeah. A very good spring.