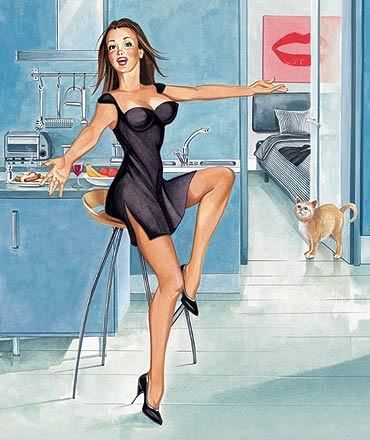 Being on the damn NutriSystem (which is working, by the way. I wore a pair of jeans yesterday that didn't fit two weeks ago. Booyah!) has deprived me of one of my great pleasures in life.
Cooking.
I love cooking. I love all the trappings that surround cooking -- cookbooks, gadgets, cooking shows, markets, food, even a chef or two. And I love the act of cooking itself. 
It's a form of therapy for me, this cooking thing. I can focus on creating something, first and foremost, that has instant gratification value. I can lose myself in the rituals surrounding my kitchen time -- the chopping, the measuring, the mixing. I can pour as much of myself into a dish as I want -- cooking for those I care about is perhaps my most sincere and pure form of showing love. I've missed all of that. Plus the byproduct... delicious, fattening, sinful, amazing food.
Sigh.
While I've been on this regimented eating plan, I've given myself permission to eat one "real" meal a week, usually on the weekends. Sometimes, that involves fried dumplings from our neighborhood Chinese takeout joint. Mmmmmm. Fried dumplings.
Anyhoo...
And sometimes, like last night, it involves me creating something. I couldn't remember the last time I had a meal that I'd actually prepared with my own two hands, so despite the fact that my dishwasher is broken *sob*, I bit the bullet and made
arroz con pollo,
aka Spanish chicken and rice.
Oh. Em. Gee. 
Damn, was it good. And I'm not one to give myself gratuitous pats on the back for such things.
Maybe it was the fact that I hadn't had a real meal in DAYS, or that even my dad's awful but well-meaning Sunday night childhood staple, SOS/creamed chip beef, would have tasted good to my numbed taste buds. But I don't think so, as the mister inhaled his first portion and went back for an equally large second portion. Fortunately, I had gotten to the pot before his return visit and was able to snag some dark meat -- big competition in our house over that stuff.
It was good to get back into the kitchen for something other than heating up my Nutri-MRE of the day or making Will a snack. The knives felt comfortable in my hands -- rather like riding a bike. And when the
sofrito
 hit the olive oil and the aroma came up and seduced my parched nostrils, I think I spontaneously combusted. Just a little. Bliss.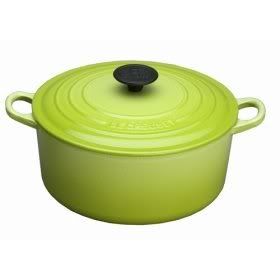 I chose to use my favorite cooking vessel -- my Le Creuset dutch oven. Heavy as hell, functional as all-get-out and a cool kiwi color, it's never, ever let me down. And once again, it pulled through. We make a great team, my pot and I.
Paired with a nice Spanish red, the resulting culinary delight made for a wonderful accompaniment to an evening of political nerdism watching election results and Friday night's episode of
Psych.
 Although I'm kicking myself for not going all out and frying up some plantains to go along side. Maybe next time. Regardless, it was well worth all the effort exerted post-meal in handwashing all those damn dishes.
And just because I'm not one of those chicks who doesn't share recipes, here's the gameplan for a pretty damn good
arroz con pollo.
It's easy, tasty and excellent comfort food. Even if your taste buds haven't been deprived like mine.
Juana La Loca's Arroz con Pollo
(Yeah, I named it after me. Chef's prerogative. Nyah.)
2-lb. chicken fryer, cut in quarters
1/2 cup olive oil
2 onions, chopped fine
1 red pepper, chopped fine
3 garlic cloves, minced
1 can diced tomatoes, undrained
1 bay leaf
4 cups organic chicken broth
1/2 cup white wine
2 cups long-grain white rice, uncooked
1/2-3/4 teaspoon saffron (personal taste)
3/4 teaspoon salt
½ cup small green peas (cooked)
2 roasted red peppers, cut in strips
Preparation
Pre-heat oven to 350 degrees.
In large, oven-safe pot, sauté chicken in heated oil until skin is golden. Remove chicken and place aside. In same oil in the skillet, sauté onion, red pepper and garlic for 5-10 minutes until onions start to become translucent. Add tomatoes; cook another five minutes. Pour into same container as chicken. In same skillet, add chicken broth, white wine, saffron, salt, bay leaf. When mixture begins to boil, add rice. Stir. Add chicken mixture back into pan and bake in oven at 350 for 30 minutes or until rice is cooked and chicken is done (you'll need to check frequently). Sprinkle with a splash of wine and garnish with peas and roasted red peppers. Serves 4.