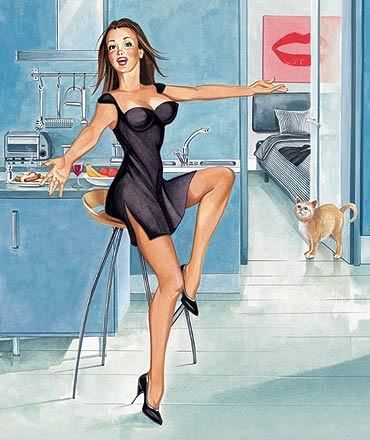 Larry has left the building.
Who is Larry, you ask?
Larry is our dishwasher repair guy, with whom I've become quite buddy-buddy in a repair dude/customer kinda way. He was here this afternoon -- third visit this week -- trying to get the damn thing fixed, by hook or crook and hopefully with Whirlpool's blessing. Apparently the part in question -- the circuit board -- is still under warranty and there are several hoops to jump through and barrels to ride around before the Man will consent to paying for one of the damn things.
I think I might have set a record for the most uses of the phrase "damn thing" in one sentence. Can you tell this has been an aggravation? Oy.
After a couple of hours and lots of phone calls to Repair Central, Larry rebooted the machine and tested all the meters, which seemed to placate the Man. And me, at least for the moment. It's running -- or at least it sounds like it's running. Which is good, because dinner tonight used a hell of a lot of dishes. And pots, pans, cups, spoons, knives and other assorted cooking paraphernalia -- including a fine mesh strainer and cheesecloth. I love recipes that call for me to use my kitchen toys -- playtime!
So while Larry was doing his thing, I was doing mine -- making the coq au vin for tonight's dinner. If he had stayed any longer, I thought I might have to invite him to break bread with us. That scenario didn't have to play out, fortunately, as dinner prep took a bit longer than dishwasher repair. Hooray.
Anyway -- here's
Larry's Coq au Vin
. With many thanks to
Cooks Illustrated
for the recipe. It's not nearly as complicated as it looks -- there are a few steps to get from raw ingredients to final product -- but if the smell emanating from my kitchen is any indicator, it's well worth it.
However, if this reboot doesn't take, Larry might very well get some leftovers on his next trip back here...
Larry's Coq au Vin
4 chicken leg quarters (about 3 pounds worth)
Kosher or sea salt and ground black pepper
1 bottle fruity, smooth, medium-bodied red wine (750ML), such as Oregon Pinot Noir, Zinfandel, or a light Rhone valley wine
2 1/2 cups organic chicken broth
6 ounces bacon (preferably thick-cut), cut crosswise into 1/4-inch pieces
6–7 tablespoons unsalted butter , at room temperature
1 large carrot , roughly chopped
1 large onion , roughly chopped
2 medium shallots , peeled and quartered
2 medium cloves garlic , skin on and smashed
1 teaspoon dried thyme
10 parsley stems
1 bay leaf
1 1/2 teaspoons tomato paste
1 bag frozen pearl onions (evenly sized), thawed
1/2 pound white mushrooms (small), washed and halved if medium sized, quartered if large
2–3 tablespoons unbleached all-purpose flour
2 tablespoons minced fresh parsley leaves
1. Generously sprinkle chicken pieces with salt and ground black pepper; set aside. Bring red wine and chicken stock to boil in large, heavy saucepan; reduce heat to medium-high and simmer until reduced to about 4 cups, about 20 minutes.
2. Meanwhile, fry bacon in large Dutch oven or deep, heavy-bottomed sauté pan over medium heat until fat has rendered and bacon is golden brown, about 5 minutes. Remove bacon with slotted spoon to paper towel-lined plate to drain; set aside. Heat 1 tablespoon butter with rendered bacon fat; add carrot, onion, shallots, and garlic and sauté until lightly browned, 10 to 15 minutes. Press vegetables against side of pan with slotted spoon to squeeze out as much fat as possible; transfer vegetables to pan with reduced wine mixture (off heat) and discard all but 1 tablespoon fat from Dutch oven or sauté pan.
3. Return Dutch oven or sauté pan to burner over medium-high heat and add another 1 tablespoon butter. When butter is melted, add chicken (in batches if necessary to avoid overcrowding) and cook until well browned all over, turning once or twice during cooking, 12 to 16 minutes. Remove chicken to a plate; set aside. Pour off all fat from Dutch oven or sauté pan; return to heat and add wine-vegetable mixture. Bring to boil, scraping up browned bits from bottom of pan with wooden spoon. Add browned chicken, bouquet garni (thyme, parsley, and bay leaf tied together), and tomato paste to boiling wine mixture; return to boil, then reduce heat to low and simmer gently, partially covered. Turn chicken once during cooking, until tender and infused with wine flavor, 45 to 60 minutes.
4. While chicken and sauce are cooking, heat another 2 tablespoons butter in medium skillet over medium-low heat. Add pearl onions and cook, stirring occasionally and reducing heat if butter starts to brown too fast, until lightly browned and almost cooked through, 5 to 8 minutes. Add mushrooms, season with salt, cover, increase heat to medium, and cook until mushrooms release their liquid, about 5 minutes. Remove cover, increase heat to high, and boil until liquid evaporates and onions and mushrooms are golden brown, 2 to 3 minutes more. Transfer onions and mushrooms to plate with bacon; set aside.
5. When the chicken is cooked, transfer to serving bowl or platter; cover with aluminum foil to keep warm. Following illustration 3, below, strain sauce through fine mesh sieve set over large measuring cup, pressing on solids with wooden spoon to release as much liquid as possible; sauce should measure 2 to 3 cups. Return sauce to pan; skim as much fat as possible off surface. Counting 1 tablespoon each of butter and flour for each cup of sauce, mash 2 to 3 tablespoons each butter and flour in small bowl or plate to make a beurre manie.. Bring sauce to boil and whisk in beurre manié until smooth. Add reserved chicken, bacon, onions and mushrooms; adjust seasoning with salt and ground black pepper to taste, reduce heat to medium-low and simmer very gently to warm through and blend flavors, about 5 minutes. Check seasoning one more time and adjust with additional salt and ground black pepper if necessary; add parsley. Transfer chicken to serving platter; pour sauce over chicken. Serve immediately with egg noodles.