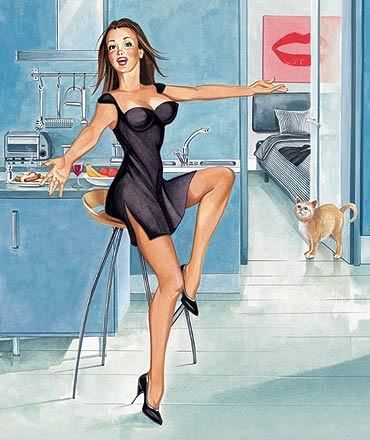 Don't clean. No man will ever make love to a woman because she waxed the linoleum --
"My God, the floor's immaculate. Lie down, you hot bitch."
~ Joan Rivers
I. Hate. Housework.
Let me cook all day long and I'm a happy domestic diva. Ask me to dust or vacuum or mop or worst of all, clean a bathroom and I can instantly find a jillion other things to do.
I'll do it. I just won't be happy about it.
My idea of housework is to sweep the room with a glance.
~ Anonymous
It doesn't help that I'm predisposed to fall on the slobby side of the spectrum. I'm basically kind of a mess. Always have been. Growing up, I had to clean my room before our weekly housekeeper came on Mondays. I'm big on piles of things -- clothes, jewelry, books, magazines, papers. I know exactly what's in each pile, which helps me organizationally. It's just not very aesthetic.
Finding myself with a free weekend at home, I decided to take the Hoover by the horns and do some cleaning. Yay.
Doesn't that sound convincing and enthusiastic?
No, I didn't think so either.
A clean house is the sign of a boring person.
~ Anonymous
The house is alive with the smell of Lemon Pledge. And Murphy's Oil Soap. Plus various incarnations of Lysol products. I figure that if things at least smell like they've been cleaned, that's half the battle.
Swiffers and vacuums and shop vacs (I'm getting behind shelving units and appliances -- hard core, baby!) are everywhere.
And the show tunes are blaring. I love to listen to songs from Broadway musicals while I clean, singing along loudly and with all the passion I can muster. Makes my task a little more palatable.
In the spirit of domesticity, I'm treating the fam to a pretty damn good dinner. Chicken tortilla soup. My Aerogarden is overrun with cilantro and I can't think of a better way to use some of it than in this dish.
Besides, it goes really well with agave margaritas. If I'm gonna have one real non-NutriMeal a week, I might as well go all out. My dishpan hands deserve it. And so do I.
If your house is really a mess and a stranger comes to the door, greet him with, "Who could have done this? We have no enemies."
~ Phyllis Diller
~~~~~~~~~~~~~~~~~
Spring Cleaning Chicken Tortilla Soup
1 (2 1/2 to 3 lb.) chicken, cut-up and skin removed
2 ribs celery, cut into chunks
1 medium onion, quartered
1 large carrot, quartered
2 sprigs parsley
2 T. chicken soup base (I use Vigo)
1 tsp. lemon-pepper seasoniong
1 large clove garlic, peeled and smashed
1 1/2 lb. potatoes, peeled
Combine the first seven ingredients in a large stockpot and cover with water by about 2 inches. Bring to a rapid boil; lower heat to a simmer and cook for about 1 hour until chicken is tender and falling off the bone.
Strain and reserve the broth. Tear pieces of chicken into small pieces. Set aside.
In 4 cups of the reserved chicken broth, boil the potatoes until tender. Remove from heat. Do not remove the broth. Mash the potatoes and add the following:
1 large can creamed corn
1 (10 oz.) can Ro-tel tomatoes, crushed
1 1/2 C. half and half
2 to 4 T. minced fresh cilantro
Add enough of the reserved chicken broth to thin out the soup to the desired thickness. Simmer on low for about 15 to 20 minutes. Taste and correct seasoning. Be careful of adding too much salt.
Moments before serving, stir in:
1 C. shredded Cheddar cheese
1 C. shredded Monterey Jack cheese
Reserved cut-up chicken
Continue to simmer until cheese is melted and chicken is heated through.
To serve, ladle soup into deep bowls. Garnish with a dollop of sour cream, chunks of avocado dipped in lemon juice, slices of black olives and a small handful of crushed tortilla chips (I like the Flour Tostidos)