... to my indulgent pity party.
Right now, I should be in Boston, finishing up a great Italian meal (within reason -- I'm in the NutriMindset, after all) in the North End and then heading to TD Banknorth Garden to watch my Celtics take on the Chicago Bulls, including my Gator Boy Joakim Noah. Our seats were behind the Bulls' bench and I had this grand scheme to get his attention doing the Gator Chop and then having our picture taken together.
However. 'Twas not to be. Like Uncle Walter used to say, that's the way it is.
I won't bore you with the details of how and why I love this team so much. Suffice it to say, I just do. Starting back in the '80s (when all good things happened) with the seminal Big Three: Larry Bird. Kevin McHale. Robert Parrish.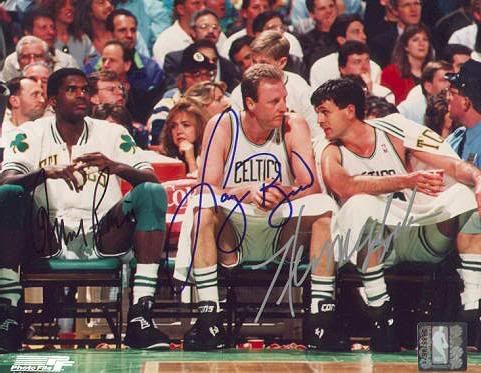 (That's Parrish, Bird and McHale in the photo, in case you were wondering...)
The Celts were one of two dominant, premiere NBA teams in my favorite decade -- the other being their rivals, the Los Angeles Lakers (BOOOOOOOO!) I kid, I kid. Epic court battles were the standard set when these two teams hit the jump ball at center court.
After those halcyon days, things went downhill as far as the team's place in current NBA hierarchy (I totally place the starting point for the decline of the dynasty on the day that Len Bias, the team's number one pick in the 1987 draft, died from a drug overdose -- one day after he was drafted.)
However, trades and team chemistry experiments have rejuvenated my team this season, thanks in ginormous part to the Big Three V2.0: Kevin Garnett. Paul Pierce. Ray Allen.
(That's Pierce, Garnett and Allen. I don't even have to ask if you were wondering... I had a feeling you probably were.)
Tip-off for this now infamous game is right around the corner -- and I can watch on ESPN tonight. I just might. To not only see the game, but to try and spot the people (clients of the mister's) who are sitting in my seats.
They better cheer loudly. They're cheering for three, dontcha know.
ETA: Celts won, 116-93. Boo. Yah.