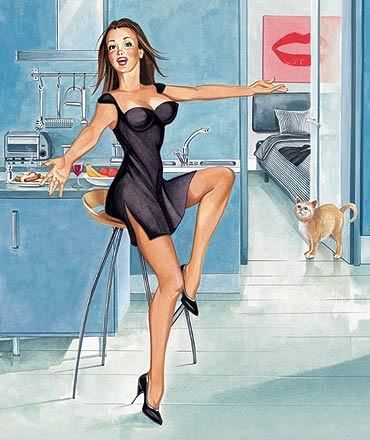 It was Pizza Night as Casa de Me tonight -- forget take-out. This was serious stuff. But easy.
So in the spirit of culinary sisterhood, I want to share the recipe with you. It's nice and basic and can be tinkered with to suit the tastes of your eager eaters.
Bon appétit, y'all!
Roasted Garlic/Tomato Pizza with Two Cheeses
* 1 large red bell pepper
* vegetable oil
* 1 large head garlic, unpeeled
* 2 tablespoons olive oil
* 1 large red onion, cut into 1/2-inch-thick rings
* 1/2 cup oil-packed sun-dried tomatoes, drained, oil reserved
* 1 prepared pizza crust (such as Boboli thin crust)
OR 1 recipe pizza dough/crust
* 2 cups fresh grated mozzarella cheese (about 6 ounces)
* 2/3 cup (about 2 1/2 ounces) crumbled tomato basil feta cheese
* 1/4 pound prosciutto, torn into pieces
Preheat broiler. Wash the pepper and make sure all labels are scraped off. Cut the stem off, then cut the pepper in half. Brush with a little vegetable oil and place, cut side down, on baking sheet. Put in oven and broil the peppers with the oven door slightly ajar. Otherwise, the oven will automatically moderate the temperature.
As soon as the peppers are blackened all over, take out and place the halves in a brown paper bag -- this helps facilitate peeling. Do not peek or let the steam out. Once the peppers have cooled, remove from bag and peel off blackened skin, plus any seeds. Cut into slices and set aside.
Preheat oven to 375°F. Slice top off garlic head; place in small baking dish. Drizzle with 1 tablespoon olive oil. Brush baking sheet with 1/2 tablespoon olive oil. Place onion slices on sheet and brush onion with 1/2 tablespoon olive oil. Bake garlic and onion until garlic cloves are light brown and soft and onion is tender, about 45 minutes. Remove from oven; let cool.
Using fingers, squeeze out roasted garlic cloves into food processor; add sun-dried tomatoes. Using on/off turns, process until almost smooth, adding enough reserved oil form sun-dried tomatoes to form paste. (Onions and garlic mixture can be prepared 1 day ahead. Cover separately and refrigerate.)
Preheat oven to 450°F. Place crust on baking sheet or pizza pan. Spread garlic paste evenly over crust. Top with mozzarella cheese, onion, pepper strips, prosciutto and feta cheese.
Bake pizza until crust is golden brown and cheese bubbles, about 8 minutes. Transfer to cutting board. Cool 5 minutes. Cut into wedges and serve.
PS: Wanna see what the finished product looks like...