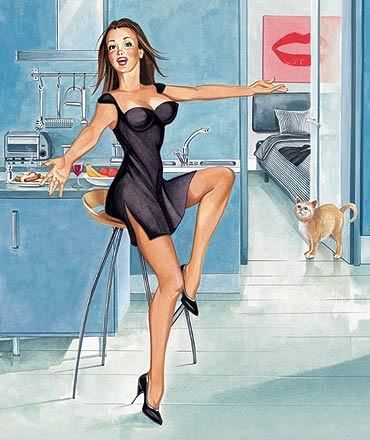 Don't faint. It's me
Yeah, I know it's been a while... a long while. Way too long, frankly. But with the holidays and The Great Computer Death of 2008 (more on that later) and various and sundry other issues (an aggravated sciatic nerve, Will on Winter Break, etc.), this writing thing has taken a back seat. In the rear of the stretch limo. Yep -- that's waaaaaay back there.
In order to blow the cobwebs out of this place and to air out the mustiness, here's a little something something from my kitchen. And it's pretty damn amazing, for something so simple. Really healthy, too. Fits right in with that Clean Eating thing I'm working on. Perfect for the beginning of a new year.
Soup. Soothing. Comforting. Warming. Filling. Good for you. Easy-going.
Who could ask for anymore than that out of a relationship. Or a meal.
Enjoy.
Lemon Chicken Soup
1-1/2 cups chopped onion
2-3 cloves garlic, minced
1-1/2 teaspoons ground cumin
4 medium carrots, peeled and diced
1 large red pepper, seeded and diced
8 cups chicken broth -- homemade OR organic is best
2 cups uncooked farfalle/bow tie pasta (whole wheat if you have it)
2 cups cooked diced or shredded chicken ( I used a roasted deli chicken)
1/4 cup fresh lemon juice
2 teaspoons grated lemon zest
1/2 of a 10-ounce pkg prewashed spinach
1/2 cup freshly grated Parmesan cheese
Heat the oil in a large heavy bottom saucepan over medium-high heat. Add the onion. Season with salt and pepper. Cook and stir 5 minutes. Add the garlic and cumin. Cook and stir 1 minute. Add the carrots and red bell pepper. Cook and stir 7-8 minutes.
Add the broth to the pan. Bring to boil. Add the pasta. Cook 10-12 minutes, stirring occasionally. until the pasta is tender. Reduce heat to medium low.
Add the chicken, lemon juice, lemon zest and spinach to the pan. Simmer 3 minutes until the spinach wilts but is still bright green. Season with salt and pepper to taste. Serve sprinkled with the Parmesan cheese. Makes 8 servings.