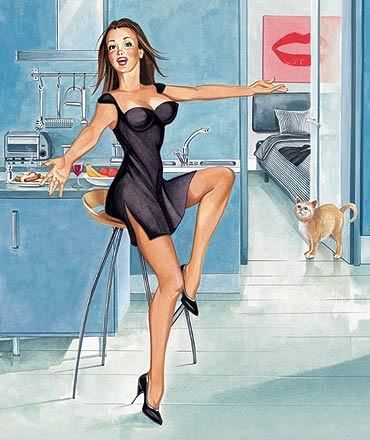 Hello again from the hallowed walls of my ridiculously small, well-equipped and highly functioning kitchen.

Seems like I've been doing a lot of cooking these days -- vacation, holidays, too-late-to-call-a-babysitter-so-we-are-staying-in-for-dinner-and-a-Netflix-movie. You know how it goes.

Made some soup last night. The recipe calls it a chowder, but to me, it's really all soup-esque. Chicken Corn Chowder. Love in a bowl. Good stuff. A new recipe -- somehow, my old one has disappeared. But it's all good -- this one was delicious, so into the rotation it goes.



And you know how I am -- gotta share the love. Mmmm...





Chicken Corn Chowder


*4-8 slices bacon
(

Let's be honest here – bacon should be its own food group. Seriously. With that in mind, I go with 8 slices. The original recipe called for three, which is absurdly miserly. Yeah, I know it's not all that healthy. But there's a balance coming…

)
*1 cup sweet onion, diced
*1/2 red bell pepper, diced
*2-3 cloves garlic, minced 
*1 bag pre-washed spinach leaves (

OPTIONAL – but it's a GREAT option

)
*1 quart organic or homemade chicken stock
*1-1/2 cups unpeeled Yukon Gold potatoes, cubed (about 2-3 medium sized taters.)
*2 cups corn kernels (O

f course fresh is best, but if it's not corn season, use frozen. I like the Green Giant corn you can steam in a bag. The flavor of frozen corn is much better than canned. Trust me.

)
*3 tablespoons all-purpose flour
*3 cups milk
*1 deli rotisserie chicken, de-skinned and deboned (Just the meat. Nothing but the meat.)
*1 cup seeded, peeled, chopped tomato OR 1 can diced organic tomatoes, drained, if it's not tomato season (

I use Muir Glen

)
*1/2 cup grated cheddar cheese (

I like sharp; mild is fine, as is medium. I add a bit more than 1/2 a cup as well. Shocking.

)
*3/4 teaspoon salt (more to taste)
*Freshly ground pepper to taste


In a large Dutch oven over medium heat, cook bacon until crisp. Transfer bacon to a plate and leave 1 tablespoon of the yummy drippings in the bottom of the Dutch oven. Reserve the bacon. Add onion, bell pepper and garlic. Sautee veggies until tender, about 5 minutes. Make sure you scrape up all the bacon-y goodness from the bottom of the pot when sautéing. (If you wanted to add spinach, the best time to add it is about three minutes into the sauté.) 





Add chicken stock and potatoes. Bring to a boil, then reduce the heat, cover, and simmer it until the potatoes are tender (about 20 minutes, give or take). Stir in corn. In a separate bowl, whisk together milk and flour until smooth. Stir mixture into the hot soup, adding gradually. Increase the heat to medium high and keep stirring it gently until thickened, about 5 minutes.

Reduce heat to medium low and add chicken, tomato, cheese, salt, and pepper. Simmer uncovered until flavors are blended and cheese is melted, about fifteen minutes.

Serve with reserved crumbled bacon on top. (

Reme

mber – a little goes a long way. See, -- told you there was balance involved in this.

)

Enjoy.