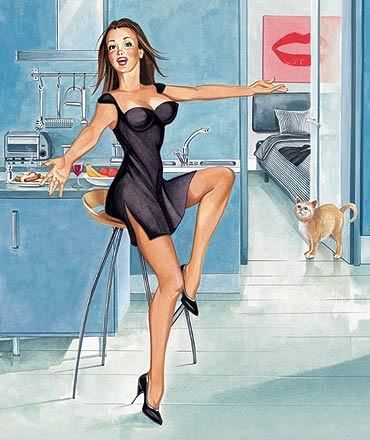 I have a long-standing love affair with the tomato. My precious pomme d'amour. My Uncle Mac, the gentleman farmer from Mississippi, grew them tall and plentiful in his backyard -- one of the highlights of our family trips to Jackson was helping pick the 'maters and then watching my Auntie Ruth slice them then, season with salt and pepper, and serve at every meal. Even breakfast. They stood on their own as highlights of the dinner table -- no balsamic affectations needed, no mozzarella accompaniment necessary.
The tomatoes I encounter these days aren't quite as lush as the ones of my Southern summer childhood -- I find the ones from the grocery need some accessories to get them palette-ready. This soup does the trick. The oven-roasting gives the 'maters a deep resonance, with the trifecta of onions, garlic and shallot adding a sweet note. It's a little taste of summer in a bowl. Just something else to love.
Roasted Tomato Soup
2 1/2 pounds fresh tomatoes (mix of fresh heirlooms, cherry, vine and plum tomatoes)
6 cloves garlic, peeled
2 small yellow onions, sliced
1 shallot, sliced
1/2 cup extra-virgin olive oil
Salt and freshly ground black pepper
1 quart organic chicken stock
2 bay leaves
2 tablespoons butter
1/2 cup chopped fresh basil leaves,
3/4 cup heavy cream, optional
Directions
Preheat oven to 450 degrees F.
Wash, core and cut the tomatoes into halves. Spread the tomatoes, garlic, shallots and onions onto a baking tray. Drizzle with 1/2 cup of olive oil and season with salt and pepper. Roast for 20 to 30 minutes, or until caramelized.
Remove roasted vegetables from the oven and transfer to a large stock pot Add 3/4 of the chicken stock, bay leaves, and butter. Bring to a boil, reduce heat and simmer for 15 to 20 minutes or until liquid has reduced by a third.
Wash and dry basil leaves, if using, and add to the pot. Use an immersion blender to puree the soup until smooth. Return soup to low heat, add cream and adjust consistency with remaining chicken stock, if necessary. Season to taste with salt and freshly ground black pepper