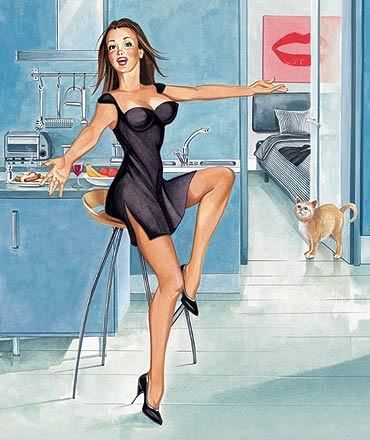 The apex of the sporting phenomenon known as Football Season is upon us.
The Super Bowl.
Even people who don't give a rip about the NFL for the four months prior somehow like getting in on the action when it's Big Game Time.
Psssst… this year, it's right in my backyard. Tampa Bay. Yay Hometown!
With such events as this, the viewing parties are inevitable. Even though there may not be a lot of viewing involved, there will be drinking. And eating. And socializing.
The buffet table at these things groan with typical "game-day" food: wings, nachos, chips, little weenie things, a popper or two. And beer. Lots and lots of beer.
I'd like to offer some options that are a little more on the sophisticated side of things… easy and yummy. Although since we're talking "sophisticated," perhaps the word scrumptious would be more appropriate.
And yep – they probably work pretty well with beer. In case you were wondering.
Truffle Butter Popcorn
1/2 cup unpopped popcorn kernels 

3 tablespoons unsalted butter, melted 

1 tablespoon white or black truffle oil 

Kosher salt to taste, plus black truffle salt to taste 

2 tablespoons finely chopped chives 


Air pop the popcorn, in batches if needed, or use two bags low-salt, light microwave popcorn, popped according to package directions. 


Drizzle two tablespoons of the unsalted butter over half the popped corn, tossing as you drizzle to distribute the butter evenly.
Combine the remaining melted butter and the truffle oil, and drizzle evenly on the remaining popcorn. Toss in chives. Season with salt and/or truffle salt to taste and serve. 


Variation on a theme:

For wasabi popcorn: Crush two tablespoons of Wasabi peas in a blender until fine breadrumb texture. Sprinkle over buttered popcorn to taste. 

(BTW, this one would also be great for a home film festival... the works of Woody Allen or Robert Altman come to mind. But I digress.)
~~~~~~~~~~
Sugar and Spice Pepitas
Nonstick vegetable oil spray
2 cups shelled pepitas
1/3 cup sugar
1 large egg white, beaten until frothy
1 tablespoon chili powder
1 teaspoon ground cinnamon
1/2 teaspoon salt
1/4 teaspoon ground cumin
1/4 to 1/2 teaspoon cayenne pepper
Preheat oven to 350°F. Spray baking sheet with nonstick spray. Mix pepitas and next 6 ingredients in medium bowl. Stir in 1/4 teaspoon to 1/2 teaspoon cayenne pepper, depending on spiciness desired. Spread pepitas in single layer on baking sheet.
Bake until pepitas are golden and dry, stirring occasionally, about 15 minutes. Remove from oven. Seperate pepitas with fork while still warm. Cool before serving.
~~~~~~~~~~
Spinach-Parmesan Dip
2 tablespoons butter
2 tablespoons olive oil
1-1/2 cups chopped shallots
6 large garlic cloves, minced
2 tablespoons all purpose flour
1/2 cup organic chicken stock
1/2 cup whipping cream
1 10-ounce package ready-to-use fresh spinach leaves, chopped
1 cup (packed) freshly grated Parmesan cheese
1/3 cup sour cream
1/2 teaspoon cayenne pepper
Baguette slices, toasted
Melt butter with oil in heavy large pot over medium heat. Add onion and garlic; sauté until onion is tender and caramelized.. Add flour; stir 2 minutes. Gradually whisk in stock and cream; bring to boil, whisking constantly. Cook until mixture thickens, stirring frequently, about 2 minutes. Remove from heat. Stir in spinach, cheese, sour cream and cayenne (spinach will wilt). Season with salt and pepper. Transfer dip to serving bowl. Serve warm with toasted baguette slices.
Variations on a theme: Adding a can of artichoke hearts or about 12 ounces fresh crab to this would totally take it up even another notch.